Carnival Cruise Lines fire with feces flowing throughout the decks. Burger King meat supplier busted for using horse meat. Los Angeles police officer goes on a shooting spree. Pizza Hut employees throwing dough on the ground and using it.
These potential PR nightmares happened in the span of just a week recently, and similar examples will continue happening.
But what is the right way to handle a crisis so that it ends up being a positive or neutral event instead of a negative?

1. Stay Calm and Mind the Reaction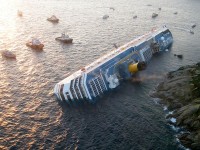 As quickly as possible, you need to assess the situation to understand exactly what is going on. Work to understand your/your company's direct and indirect roles in the crisis as well as how the public is likely to perceive the situation.
Work internally to identify the ultimate path to resolving the crisis. Do customers need to be satisfied personally? Would a strong policy change ease any issues? Does the public need to be made aware of what is going on? Do not be defensive internally as you come up with a plan of attack and don't be defensive when dealing with media and/or customers.
2. Make a Sincere Statement
As quickly as possible you need to address the issue(s). You should express sincere regret for the event (ship crash, food mishap, beating your spouse, etc.) and clearly explain what you plan to do to make things right (full refund, fire employees and institute policy changes, anger management counseling).
The goal of making a statement is to clearly explain the situation and set an end point for the crisis. If people believe and trust you, then the statement and follow on actions will go miles to rebuilding credibility.
Your message should always be about the victim(s), why you regret what happened, and how you're going to fix things going forward.
3. Prepare for the Social Media Onslaught
Online reputation management is critical during a crisis event. Not only do you need to monitor your Twitter, YouTube, Facebook, and other social channels, but you should also set up alerts to monitor the blogosphere and web at large.
You need your messaging to be laser focused and participate in the conversations wherever they may be. Don't try to control the conversation – that won't work. Instead, participate in it.
4. Follow Through
Since you've established how you're going to fix the problem, keep your word. Resolving the problem effectively will not only show that you are able to keep your word, but will also help in establishing credibility again.
If you fail to keep your word, the backlash can be even more severe than if you did nothing at all.
Consider the incident a few years ago with JetBlue where passengers were stranded on board for over 12 hours during an ice storm. They issued a 'Passengers Bill of Rights' that was meant as a policy change next time passengers were stranded, thus accepting fault and making a go-forward plan. Unfortunately, soon after another incident happened where passengers were stuck and JetBlue didn't live up to their end of the bargain. The resulting media coverage of that more minor incident was overly severe.
Of course, getting a plan in place first is important, so…
0. Create a Response Team and Process
Of course the best course of action is to have a plan in place well before a crisis happens. Have a team already in place that is ready to address issues as they arise. Know who the decision makers will be, and how statements need to be issued.
Online reputation management isn't something you can control quickly, and in the case of a crisis, decisions need to be made at lightning speed.
It also makes sense to strengthen your online presence well before a problem occurs. Have profiles established at several sites (YouTube, Facebook, business directories) where you can control the content. Publish press releases on a regular basis to fill up the web with positive content. Ultimately the goal is to own the first couple of pages of the major search engines so when people search they get a positive impression of you.
If you don't have the ability and experience to handle this in-house, then you should have an agency on retainer that'll navigate the PR minefield with you. When a crisis happens, all eyes are on you. How you respond determines whether people stick with you or abandon the sinking ship. And you don't often get a second chance.seo sorgulama
site analiz
seo analiz
google sıra bulucu
backlink sorgulama
sunucu tarama
çekiliş
çekiliş sitesi
Who is
html kod şifreleme
seo
hacklink
hacklink satış
hacklink panel
seo analiz
site analiz
seo
cialis
cialis fiyat
seo sorgulama
hacklink seo
backlink sorgulama
hacklink satış
backlink satış
makale programı
Tanıtım Yazısı
site analiz
seo analiz
seo aracları
seo sorgula
backlink satış
instagram takipçi hilesi
meme küçültme
pubg hile al
hacklink satış
backlink al
google sıra bulucu
wso shell
phpshell
indoxploit shell
Wso shell
Dubai Escorts
Dubai Escorts
london escorts
london escorts
london escorts
london escorts
Ankara escort
Dubai Escorts
Dubai Escorts
london escorts
london escorts
london escorts
london escorts
Ankara escort
mecidiyeköy escort
esenyurt escort
avcılar escort
izmit escort
sisli bayan escort
kocaeli escort
izmir escort
gaziantep escort
istanbul escort
SEO
sertleştirici hap eczane
sertleştirici hap çeşitleri
yapay kızlık zarı