In the past couple of weeks we've run across a couple of clients that know the value of natural ranking in Google and are interested in maximizing the results. What's great is that there really are a ton of options…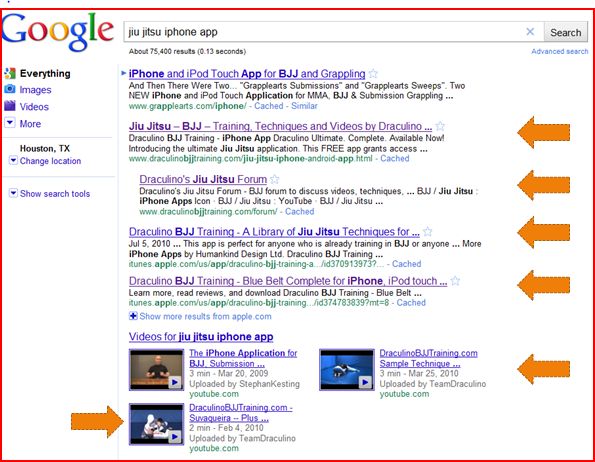 Getting on the first page of Google is within reach for just about every local search and is something that should be explored. But where do you take it after that?
Multiple Listings
Using high value SEO, you can rank not only your home page but also another couple of pages of your site. You can get a Places listing, a YouTube video, a photo, and even rank "reviews" of your site.  The effect this has is to push everybody else out of the picture.  It's a ton more work than getting one listing on the page, but for many cases it's worth it.
Check this out for an example of getting multiple listings for a search that we've done.
Reputation Management
If you have negative information that shows up on search results your options are very limited.  If the information is true, there is almost no chance you can get the person hosting the site to take it down.  And chances are they want that information there to begin with.  In this case you can use SEO to get so many of your reviews and site pages on the search results that the bad reviews are pushed off.   Problem solved.
Top the Competition
Do you have a Lexus dealership and are tired of Acura stealing your business? Why not get your Lexus site ranking on the first page (or even above) the Acura dealership? How about a ReMax agency showing up when people search for Keller Williams? A Chinese food restaurant showing up when people search for Mexican food? If you have "buying terms" that people search for, getting in front of them is invaluable – and possible.
Bury the Competition
In some instances it may make sense to spin up your own "review" type site. If you are marketing widgets, people will be searching for it. Why not help provide them with some guiding information on what makes your products/services better in the semi-official context of a review site.
In the end, search engine optimization can be used both defensively and offensively. There is no reason that your site can't rank if you have the time and want to put in the effort. Now grab your coffee and think a bit. What would you like to see Google put forward as the expert in your space?